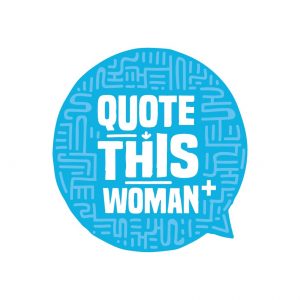 Less than 20% of expert sources quoted in popular media are women: our online database of woman+ experts for journalists is working to change that. Quote This Woman+ (QW+) is a South African based non-profit working to bridge the gender gap in the media landscape across Africa, by increasing the number of women+ used as expert sources by journalists. Through our online database, we link journalists with brilliant experts on an array of trending topics, from a green economy, politics, protests, finance, to human rights law and medicine. We're working to shift the statistic of only one woman used as a news expert for every four times a man is, which recent research has shown.
Quote This Woman+ campaigns, advocates and lobbies for the voices of women+ experts. There is a plus in our name because our database is open to any marginalised experts who believes they should be included on our database – perhaps because of a disability, or sexual and gender orientation, or anything else.
We started in before the 2019 elections, with the aim of increasing women's voices around that election. We are excited to have had 2 years behind us now as we approach the municipal elections. During this election period we will be doing three things:
1. Maintaining and updating our elections database: from July 2021, we start compiling our South African elections 2021 database of experts. We will actively find and verify new women+ to speak on the elections (whenever they may be). To gain access to the database, you'll need to follow the prompts here: https://quotethiswoman.org.za/#joinnow
2. Sending out elections media source updates: every two weeks, (or more often, when things hot up) we will be sending out a updates with new and relevant women+ sources to speak on all things elections (and for e.g. protests). Sign up to receive our media updates here: https://quotethiswoman.org.za/#newsletter
3. Lobbying: part of our work is to provide the database, and the other part is media lobbying. During the build-up to elections, women's voices are heard even less than in normal times. We will be lobbying newsrooms and individual journalists to make sure they are representing a wide variety of voices. Get in touch with us if you'd like ideas on how to make this a reality in your newsroom – [email protected] would love to chat!